I love it, when my husband surprises me with gifts. There is nothing like unwrapping a present when you don't know what's inside.
But it's not so easy for my husband to find a gift for me. Most of the times I have a strong sense for what I'm looking for. To make it easier for all the lovely men out there to gift their wifes, I put together this guide with organic home decor products. It can be used as a source of inspiration and to find gift ideas for women who like to decorate. All products are made with sustainable materials and cost under $160.
You are looking for small gifts? – You can find ideas here.
1 For Sweethearts - Organic Cushion
This soft cushion is made out of organic linen and organic cotton. It makes a comfy evening on the couch even more cozy. The abstract pattern adds a modern touch to your living room decor. Only organic inks are used for the digital print.
2 For Cow-Lovers - Bull Head out of Wood and Concrete
No animal was harmed for this stylish decor. The bull head is made out of wood and concrete and beautifies every wall with its clear design.
3 For Gardeners without a green Thumb - Palm Plant in a Mason Jar
Artificial plants are a past story now. This little tropical beauty reminds us of our holidays and provides relaxation, because it takes care of its own watering. Because of the closed jar a small ecosystem occurs. In this the plant can live without being watered manually.
4 For Cozy Babes - Blanket out of Organic Wool
This loosely knitted wool blanket is the ideal companion for the cold season. No matter where - on the couch, the armchair or on the bed - you won't have cold feet with this cozy blanket.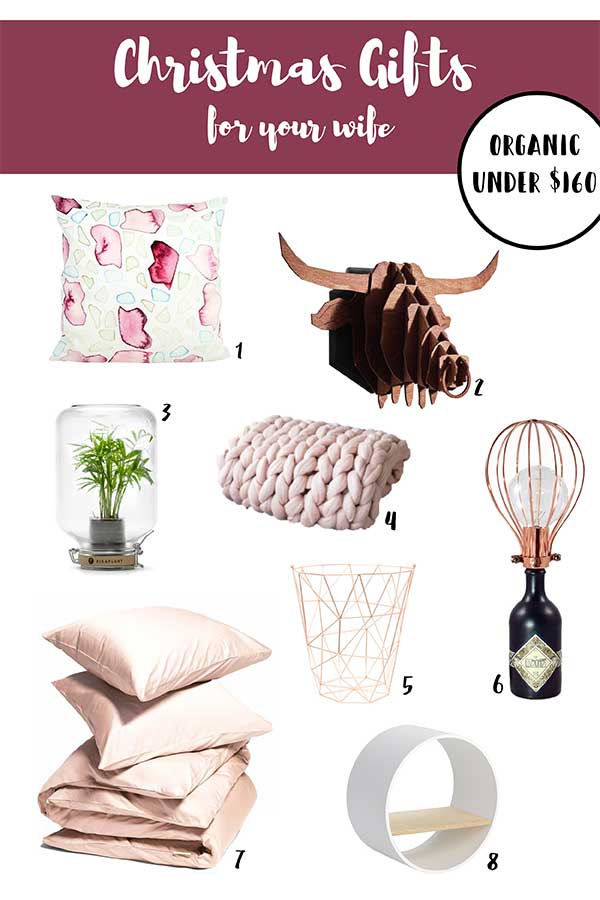 5 For Cleaning Enthusiasts - Wire Basket
The geometrical design of the copper wires turns this basket into an art object. It's a little sad to fill it with our trash – but this way it will hopefully educate us to be more tidy.
6 For Illuminated - Upcycled Lamp out of an old Glass Bottle
Looking for the enlightenment? – you may find it with this lamp. Each lamp is one of a kind and made out of old bottles. Also other sorted out objects can find a new usage in this company. The lamps are made in Germany.
7 For Bed Lovers - Bedding made out of Organic Satin
There is nothing better than staying in bed on a cold and dark morning. With this cozy bedding, it will be even more tempting to stay in bed all day. Only organic and fair harvested cotton is used for this set.
8 For All-ROUND-Lovers - Round Wall Rack
Your beloved decor, books and all of your small bits and pieces can find a place in this round rack. It's produced in Germany out of recycled cardboard and wood.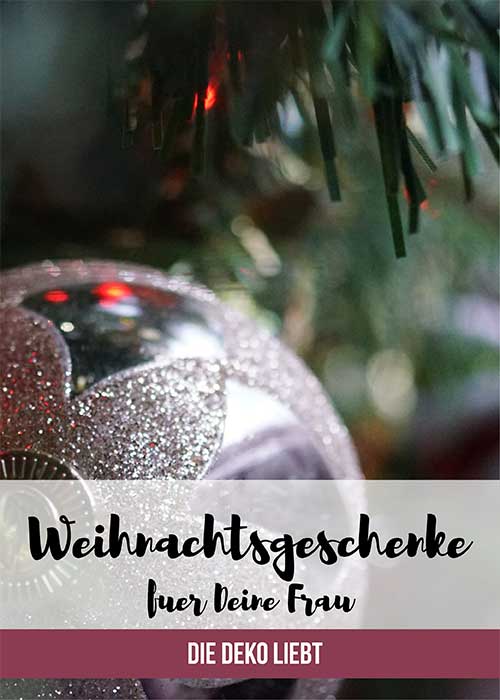 For this collage we used photos from EmAhls, Ovis products, Pikaplant, Wool Art, Gary Mash, Upcycling Lights, Yumeko and Rundstil.

You are looking for more inspiration? – Here you can find our other gift guides.