Did you know that the wrong care for linen can lead to an irreparable damage of the fibres? – Small knots and bobbles will appear on the surface. In order to avoid this, follow tip number two. Extend the lifespan of your linen product by following the other five tips.
Before we start
Always read the care instructions on your product, follow their advice and the stated temperatures.
1| The right washing temperature
Choose the temperature according to the color of your fabric. Appliqués or prints on the surface also play an important role. Dyed linen should not be washed hotter than 40 °C (104 °F ). Natural colored linen tolerates temperatures up to 95 °C (203 °F). Normally a temperature up to 60 °C (140 °F) is enough.
2| Just half fill the washing machine
Linen can absorb a lot of liquid, that's why it wants to "swim" during the washing. Just half fill the washing machine for the best results. Let bigger pieces soak in water and put them wet into your machine.
3| The right washing detergent
Use liquid (organic) washing detergent without optical brighteners or bleachers to preserve the colors. Bleachers can make the fabric go yellow.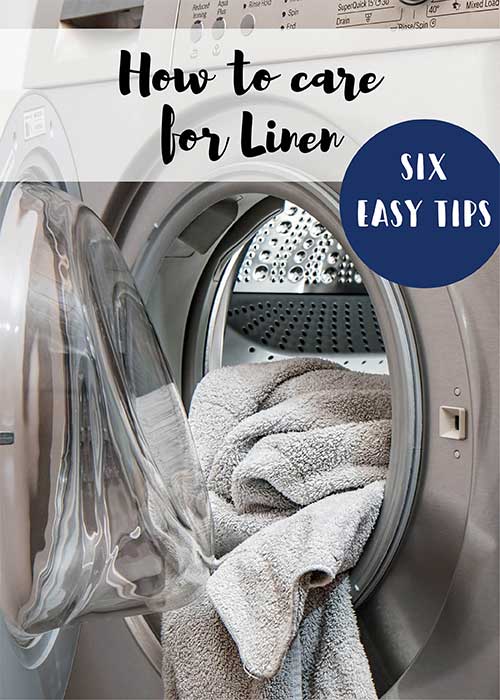 4| Forgo spinning your laundry
Linen wrinkles easily. Forgo the spin-drying program and carefully wring it out manually. You can use your spin-drying program with a low number of revolutions, if you are in a hurry.
5| How to dry linen
Dry it without your tumble dryer, not only for the sake of the environment. You can dry linen while hanging it on your clothesline, wrapping it in a terry cloth or laying it horizontally.
6| Save time while ironing
Iron linen with a high temperature, when it's still wet and from the left side of the fabric to prevent ironing sheen. If you like the natural wrinkle of linen, forgo ironing completely.
Extend the lifespan of your product
Follow the care instructions and our six tips to extend the lifespan of your linen product and enjoy the characteristics of this natural and eco-friendly fibre.
Looking for linen Products?
If you are looking for linen product, check out our cushions. Only organic materials are used for their production.
Get the free printable overview
You can find the printable overview with all six tips in our last email, if you have signed up for our newsletter.
You are not part of the gang yet? – You can join here.
You will get all of our free downloads, new blogposts and information about our products right into your inbox.
You can unsubscribe at any time with the link in every email. We will protect your data and won't give it away to other third-party companies. You can find more information in our Privacy Policy.