With Spring (hopefully) just around the corner, it is time to welcome the new season in our homes with matching home decor. This time the focus is on different shades of green to fresh up your home. Especially products out of organic or natural materials are chosen for this overview.
1/ Hanging Plants are a great way to add some greenery to your home, even if you don't have so much space. They can be also used to grow a small herb garden in your kitchen.
2/ This soft Wool Blanket keeps you warm on cool days. The geometrical pattern is a real eye-catcher and brings colour to your home.
3/ Give your table setting a small makeover with this Table Mats. They can be easily cleaned and beautify your everyday life.
4/ This Linen Cushion is a great way to add some fresh accents to your living room or bedroom. The natural colors are a great fit for different color schemes.
5/ The Rattan Baskets can be used to store the items you use on a daily basis or to display fruits or veggies. They come in a set, so you have different sizes to play around with.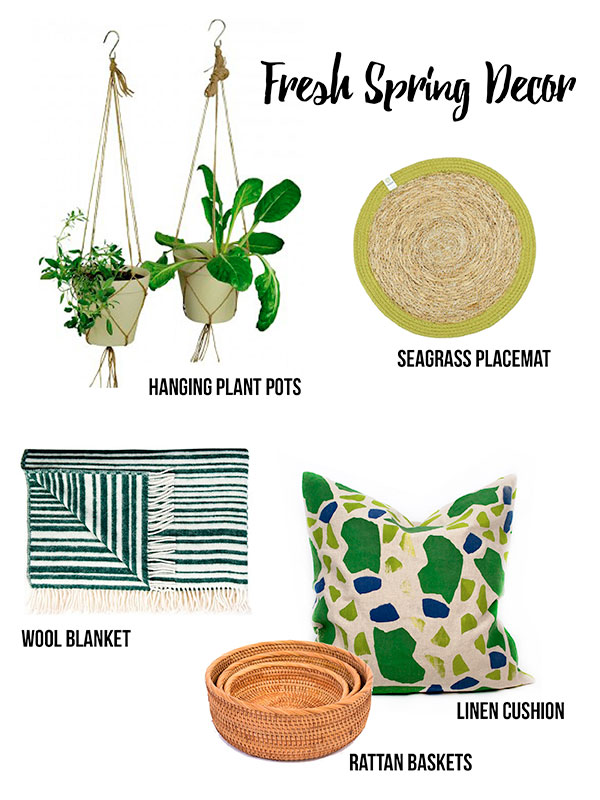 For this collage we used photos from zuperzozial, BRITA SWEDEN, A SLICE OF GREEN, EmAhls and STUDIO TR. Frontpicture by Scott Webb on Unsplash.